Home
NEW PAYDAY LOAN SOFTWARE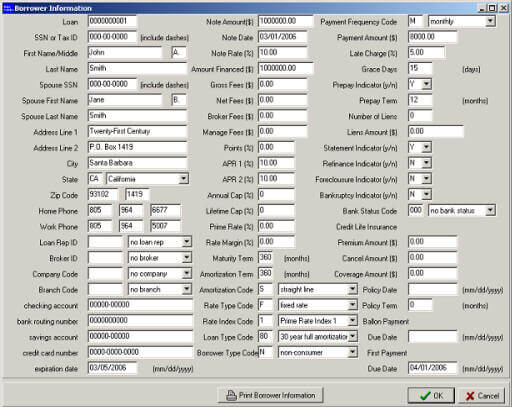 SERVICE SYSTEM -- PAYDAY LOAN SOFTWARE
Written in highly efficient visual pascal programming language with a graphical point and click interface for the windows environment.
Incorporates high performance SQL client /server database architecture for both single user and multi-user network applications.
Accrues interest daily based on fixed and variable rates with annual and lifetime floor/ceilings by individual loan.
Prints customer statements, payment coupons, 1098 tax forms and processes payment transactions.
Automatically assesses late charges and processes payment reversals.
Supports collection activities with online displays, collection letters, notes/comments, printed reports and follow up reminders.
Stores complete loan account history from origination through payoff.
Calculates payoff worksheet with prepayment penalty options. Credit Bureau Reporting in standard metro2 format. ACH interface for automatic payment deposits to bank account.
Investor tracking features including statements, distribution checks and 1099 tax forms.
Payday Loan Software Price: $2295
FAST EFFICIENT MANAGEMENT WITH PAYDAY LOAN SOFTWARE
Customer Testimonials
Their patience, expertise, and service attitude places Twenty-First Century in the forefront of companies who offer payday loan software. We strongly recommend Twenty-First Century to any payday loan lender.
The service provided by Twenty-First Century was as promised, worth every penny, and the people we worked with were enthusiastic, knowledgeable and highly skilled. I would certainly recommend the services and payday loan software products of Twenty-First Century.
We received excellent professional service for the installation of the payday loan software at Balcor. I highly recommend Twenty-First Century products and services for the payday loan industry.