Home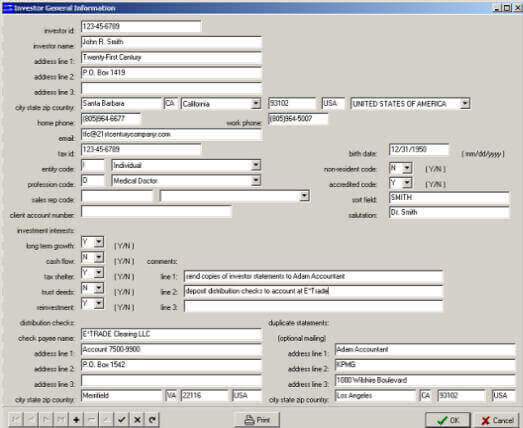 PARTNERS SYSTEM - Hedge Fund Software calculates allocation of distributions to investors, tax return schedule k-1s, distribution checks, broker commissions and management reports. Allocation of Management Fees and Partnership Expenses to Investors. Customized professional looking color Investor Statements with the partnership logo, name, address and phone. Customized allocation formulas based on guaranteed return, high water marks, and other incentive factors. New Windows Version runs on office computer network with remote access available via the internet. $2595.

View Sample Investor Statement

View Sample Annual Summary Report

View Sample Capital Account Reconciliation Report
POWERSCAN SYSTEM - new Powerscan Investor Display Software with windows graphical point and click interface provides electronic version of the widespread manual ledger card investor tracking system which was popular in many investor partnership operations prior to the advent of computers. The spreadsheet format allows processors to quickly view the status of each investor's account. System Functions include Add New Investor, Modify Investor, Add Investor Fund, Add Investor Transactions, Investor Master List, Quarterly Statement, Annual Statement, Distribution Check List, Investor Distribution Checks and Investor Mailing Labels. Rows are color coded to distinguish between investor accounts with investments, withdrawals and no activity.$1795.

View Sample Investor Master List

View Sample Distribution Report

View Sample Distribution Check
TRACKER - Fund Investment Tracker Software tracks hedge fund investment portfolio in stocks, bonds, commodities and other assets. The spreadsheet format allows fund managers to quickly view the status of investments including symbol, description, quantity, total cost, average cost, current price, market value and gain( loss) percentage. System Functions include add investment, modify investment, add investment transaction, modify investment transaction, investment holdings report, investment transactions report and capital gains/loss report. Rows are color coded to distinguish between gains and losses.$1795.
ACCESS SYSTEM - new Investor Internet Access Software allows investors to log in via the internet to the Hedge Fund Web Site and view/print the quarterly statements and other investor reports. The ACCESS System connects to the PARTNERS System SQL database for real time current information. $1795.

Access Demo System
INSTALLATION - Load hedge fund software, setup customer location parameters, and test system.
TELEPHONE SUPPORT - Answer questions and trouble shoot problems with voice communications, email and via internet using remote control software to access the computer hedge fund software.
CUSTOM PROGRAMMING - Modifications to standard hedge fund software package to meet special requirements. Cost is based on definition of requirements with fixed price quotations.
MAINTENANCE Annual updates and enhancements to hedge fund software.
Customer Testimonials
Their patience, expertise, and service attitude places Twenty-First Century in the forefront of companies who offer hedge fund software. We strongly recommend Twenty-First Century to any hedge fund.
The service provided by Twenty-First Century was as promised, worth every penny, and the people we worked with were enthusiastic, knowledgeable and highly skilled. I would certainly recommend the services and products of Twenty-First Century.
We received excellent professional service for the installation of the hedge fund software at DMC. I highly recommend Twenty-First Century products and services for other hedge fund organizations.