Home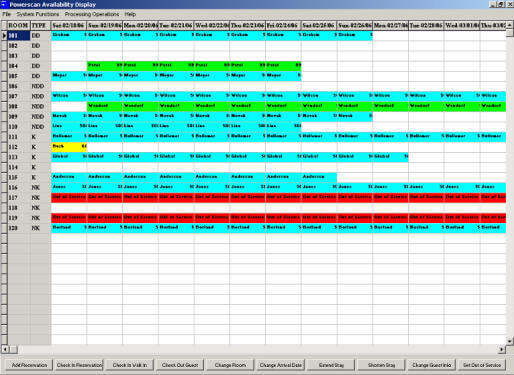 POWERSCAN SYSTEM - new Powerscan Availability Display Software with windows graphical point and click interface provides electronic version of the widespread manual rollerboard powerscan reservation system which was popular in many hotels prior to the advent of computers. The spreadsheet format allows clerks to quickly view the status of each room by day for two years. System Functions include add reservation, check in reservation, check in walk in, check out guest, change room, change arrival date, extend stay, shorten stay, change guest information and set room out of service. Cells are color coded to distinguish between reservations, in house stayovers, in house checkouts and out of service rooms$1795.
INN SYSTEM - new Hotel Software for windows graphical point and click system with property management functions including reservations, check in, front desk, check out, night audit, housekeeping, property maintenance, guest history archives, general manager, back office interface and credit card processing interface. Automatically email reservation confirmations. Interfaces to internet reservations system. Scan drivers license information. Scan credit cards to process through internet gateway. Automatically post calls from the phone system to the guest folios. Export information to quick books accounting system. Remote access to the hotel computer for owners and hotel managers from the home office. Customized professional looking color forms with the hotel logo, name, address, phone and website. $1595.

View Sample Confirmation Letter/Email

View Sample Guest Registration Card

View Sample Guest Folio Receipt

View Sample Night Audit Report

View Sample Back Office Report
IRS SYSTEM - new Internet Reservations Software for guests to make reservations on the hotel web site, check room availability for a specified date and lookup room rates. The system automatically updates the hotel software database on the front desk computer at the hotel $1795.

IRS Demo System
CALLS SYSTEM - Call Accounting Software for guest tracking and accurate billing of telephone usage. Call charges include customized mark-ups, surcharges, state and local taxes by type and duration of call. Posting call records to guest folios can be done automatically to hotel software. Works with all phone systems that have SMDR output. $1795.
CONDO SYSTEM - new Condominium Management Software with windows graphical point and click interface tracks rental revenue and monthly fees with statements for owners. The spreadsheet format allows clerks to quickly view the status of each unit with year-to-date revenue, nights occupied, nights out of service, nights owner use, average rate and occupancy percent. System Functions include add new owner, change owner info, edit daily revenue, post monthly fees, post payments, owner summary report, owner statements, business report by unit, property management report and rental priority report. Cells are color coded to distinguish between units available for rental and units not currently in the rental pool $1795.

View Sample Owners Statement

View Sample Owners Summary Report

View Sample Property Management Report

View Sample Business Report

View Sample Rental Priority Report
COMPUTER FORMS - Hotel software forms for reservation confirmations, registration cards, guest folios, travel agent commission checks, accounts payable checks, payroll checks, and direct bill account invoices.
INSTALLATION - Load hedge fund software, setup customer location parameters, and test system.
TELEPHONE SUPPORT - Answer questions and trouble shoot problems with voice communications, email and via internet using remote control software to access the computer hedge fund software.
CUSTOM PROGRAMMING - Modifications to standard hedge fund software package to meet special requirements. Cost is based on definition of requirements with fixed price quotations.
MAINTENANCE Annual updates and enhancements to hedge fund software.
Customer Testimonials
We love the Powerscan System. It is simple, very easy-to-use and provides quick access to all the basic functions that we need at the front desk.
Their patience, expertise, and service attitude places Twenty-First Century in the forefront of companies who offer hotel software. We highly recommend Twenty-First Century to any lodging facility.
We have had excellent service and results from the Inn System and the special financial reports you designed. The responses of you and your staff have always been thorough and on time. I would certainly recommend Twenty-First Century as a qualified professional vendor for any lodging hospitality applications.
The Inn System hotel software has saved our hotel. It is operating smoothly, has solved our cash control problems, put our entire staff at ease, and most importantly helped make our guests happy.