Home
NEW PARTNERSHIP SOFTWARE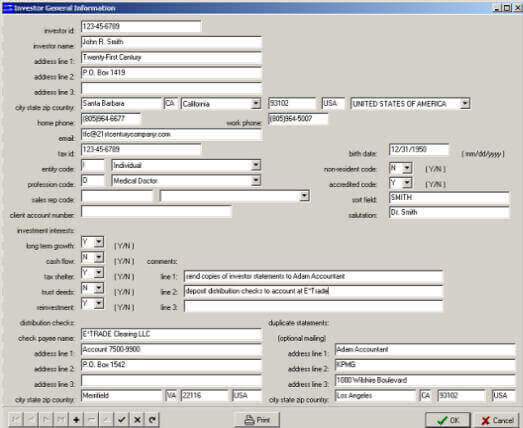 PARTNERS SYSTEM
PARTNERSHIP ADMINISTRATION SOFTWARE
Windows Version Graphical User Interface
written in highly efficient visual pascal programming language.
incorporates high performance sql client/server database for both single user and multi-user network applications.
automatic allocations to limited partners based on 24 alternative formulas.
customized allocation formulas based on guaranteed return, high water marks and other incentive factors.
allocate management fees and partnership expenses based on investors weighted average capital balance.
prints investor statements, distribution checks and tax schedule k-1s.
automatic capital account reconciliation both tax and book.
supports broker dealer sales with commission checks, broker statements and sales performance reports.
interfaces to excel spreadsheets, word processing and tax systems.
includes RAVE report writer for custom reports.
windows based system runs on office network with remote access to partnership software available via internet.
MANY NEW FEATURES AND ENHANCEMENTS TO PARTNERSHIP SOFTWARE
SPECIAL PRICE $2595
Customer Testimonials
Their patience, expertise, and service attitude places Twenty-First Century in the forefront of companies who offer partnership software. We strongly recommend Twenty-First Century to any partnership.
The service provided by Twenty-First Century was as promised, worth every penny, and the people we worked with were enthusiastic, knowledgeable and highly skilled. I would certainly recommend the services and products of Twenty-First Century.
We received excellent professional service for the installation of the partnership software at DMC. I highly recommend Twenty-First Century products and services for other partnership organizations.