Home
NEW PARTNERSHIP SOFTWARE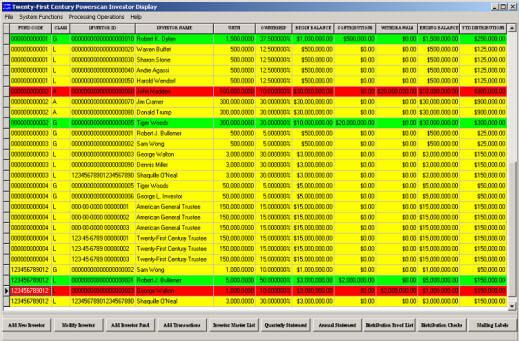 POWERSCAN SYSTEM
POWERSCAN INVESTOR DISPLAY SOFTWARE
SYSTEM FUNCTION BUTTONS/ HOT KEYS
Add New Investor

-

Ctrl F1

Modify Existing Investor

-

Ctrl F2

Add Investor Partnership Info

-

Ctrl F3

Add Investor Account Transactions

-

Ctrl F4

Investor Master List Across All Funds

-

Ctrl F5

Quarterly Investor Account Statement

-

Ctrl F6

Annual Investor Account Statement

-

Ctrl F7

Distribution Check Proof List

-

Ctrl F8

Investor Distribution Checks

-

Ctrl F9

Investor Mailing Labels

-

Ctrl F10
GRAPHICAL POINT AND CLICK USER INTERFACE
SPREADSHEET FORMAT WITH ONE ROW PER INVESTOR
COLOR CODED CELLS QUICKLY SHOW ACCOUNT STATUS
Account Investment Activity

No Account Activity

Account Withdrawal Activity
SQL DATABASE SERVER INCLUDED WITH PARTNERSHIP SOFTWARE
MANY NEW FEATURES AND ENHANCEMENTS TO PARTNERSHIP SOFTWARE
SPECIAL PRICE $1795
Customer Testimonials
Their patience, expertise, and service attitude places Twenty-First Century in the forefront of companies who offer partnership software. We strongly recommend Twenty-First Century to any partnership.
The service provided by Twenty-First Century was as promised, worth every penny, and the people we worked with were enthusiastic, knowledgeable and highly skilled. I would certainly recommend the services and products of Twenty-First Century.
We received excellent professional service for the installation of the partnership software at DMC. I highly recommend Twenty-First Century products and services for other partnership organizations.