Home
REPLACE YOUR OUTDATED CALL ACCOUNTING SOFTWARE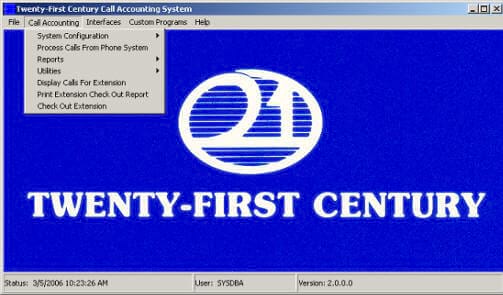 NEW AREA CODE UPDATE
CALLS SYSTEM -- CALL ACCOUNTING SOFTWARE
Hotels may charge guests for calls as well as track administrative calls.
Interface with Property Management System to post to guest folio.
Easily adjust surcharges/markup rates by call type for the desired profit.
Optional night audit reports and guest check out reports.
Everything you always wanted to know about your phone bill is now at your finger tips.
Design your own reports for any date range, sort order, and selection.
Track all calls by person, department, client, place, time, and duration.
Make your phone system accountable/reduce expenses by 10-30%.
Windows Version Call Accounting Software Price: $1795
CALL ACCOUNTING SOFTWARE CONTAINS ALL NEW AREA CODES THROUGHOUT THE UNITED STATES
Customer Testimonials
We love the Call Accounting Software. It is simple, very easy-to-use and provides quick access to all the basic functions that we need at the front desk.
Their patience, expertise, and service attitude places Twenty-First Century in the forefront of companies who offer call accounting software. We highly recommend Twenty-First Century to any lodging facility..
We have had excellent service and results from the call accounting software and the special financial reports you designed. The responses of you and your staff have always been thorough and on time. I would certainly recommend Twenty-First Century as a qualified professional vendor for any lodging hospitality applications.
The Inn System call accounting software has saved our hotel. It is operating smoothly, has solved our cash control problems, put our entire staff at ease, and most importantly helped make our guests happy.