Home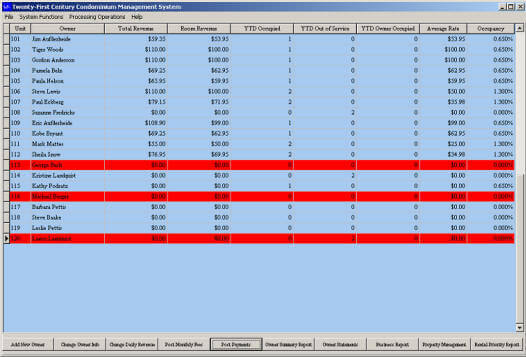 NEW CONDOMINIUM MANAGEMENT SOFTWARE
CONDO SYSTEM
CONDOMINIUM MANAGEMENT SOFTWARE
SYSTEM FUNCTION BUTTONS/ HOT KEYS
Add New Owners Information

-

Ctrl F1

Modify Existing Owners Information

-

Ctrl F2

Modify Daily Rental Revenue

-

Ctrl F3

Post Monthly Fees

-

Ctrl F4

Post Payments To/From Owners

-

Ctrl F5

Print Owners Summary Report

-

Ctrl F6

Print Owners Statements

-

Ctrl F7

Print Business Reports By Unit

-

Ctrl F8

Print Property Management Report

-

Ctrl F9

Print Rental Priority Report

-

Ctrl F10
GRAPHICAL POINT AND CLICK USER INTERFACE
SPREADSHEET FORMAT BY UNIT WITH REVENUE AND OCCUPANCY
COLOR CODED CELLS QUICKLY SHOW UNIT STATUS
Available for Rental

Not in Rental Pool
FRONT OFFICE SYSTEM INTERFACE TO CONDOMINIUM MANAGEMENT SOFTWARE INCLUDED
MANY NEW FEATURES AND ENHANCEMENTS TO CONDOMINIUM MANAGEMENT SOFTWARE
SPECIAL PRICE $1795
Customer Testimonials
We love the Condominium Management Software. It is simple, very easy-to-use and provides quick access to all the basic functions that we need at the front desk.
Their patience, expertise, and service attitude places Twenty-First Century in the forefront of companies who offer condominium management software. We highly recommend Twenty-First Century to any lodging facility.
We have had excellent service and results from the Condominium Management Software and the special financial reports you designed. The responses of you and your staff have always been thorough and on time. I would certainly recommend Twenty-First Century as a qualified professional vendor for any lodging hospitality applications.
The Inn System condominium management software has saved our hotel. It is operating smoothly, has solved our cash control problems, put our entire staff at ease, and most importantly helped make our guests happy.