Home
NEW HOTEL MANAGEMENT SOFTWARE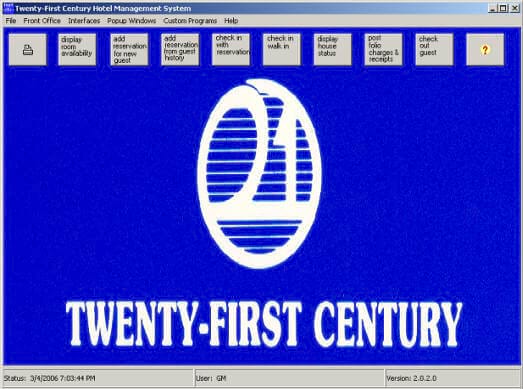 INN SYSTEM -- HOTEL MANAGEMENT SOFTWARE RELEASE 3.0
FOR WINDOWS OPERATING SYSTEM
Reservations
Guest History
City Ledger Receivables
Confirmation Letters
Check In/Check Out
Post Charges/Receipts
Property Maintenance
Room Availability
Travel Agent Commissions
Print Guest Folios
Night Audit
Housekeeping Schedules
Cashier Reports
Management Reports
GRAPHICAL POINT AND CLICK USER INTERFACE
CREDIT CARD PROCESSING INTERFACE INCLUDED
INTERFACES TO BACK OFFICE SYSTEMS
INCLUDING QUICKBOOKS, MYOB AND OTHER SYSTEMS
INTERNET RESERVATIONS INTERFACE INCLUDED
AUTOMATICALLY EMAIL RESERVATION CONFIRMATION
SCAN DRIVERS LICENSE AT CHECK IN
CUSTOMIZED PROFESSIONAL LOOKING COLOR FORMS WITH HOTEL LOGO, HOTEL NAME, ADDRESS, PHONE AND WEBSITE
REMOTE ACCESS TO HOTEL MANAGEMENT SOFTWARE FOR OWNERS/MANAGERS FROM HOME OFFICE
MANY NEW FEATURES AND ENHANCEMENTS TO HOTEL MANAGEMENT SOFTWARE SPECIAL PRICE $1595
Customer Testimonials
We love the Hotel Management System. It is simple, very easy-to-use and provides quick access to all the basic functions that we need at the front desk.
Their patience, expertise, and service attitude places Twenty-First Century in the forefront of companies who offer hotel management software. We highly recommend Twenty-First Century to any lodging facility.
We have had excellent service and results from the Inn System hotel management software and the special financial reports you designed. The responses of you and your staff have always been thorough and on time. I would certainly recommend Twenty-First Century as a qualified professional vendor for any lodging hospitality applications.
The Inn System hotel management software has saved our hotel. It is operating smoothly, has solved our cash control problems, put our entire staff at ease, and most importantly helped make our guests happy.